BlackBerry and TCL are parting ways on August 31 2020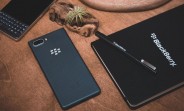 BlackBerry phones are going to the big electronics store in the sky – the company just announced that its partnership with TCL will come to an end on August 31. After that, TCL will no longer have the rights to design, make and sell BlackBerry-branded devices.
Existing customers don't need to worry, as TCL will provide customer service and will handle warranties until August 31 2022 (or as long as is required by your local laws).
The BlackBerry-TCL partnership dates back to 2016 with the first phone, the first wave of devices featured the DTEK50, DTEK60 and BlackBerry Keyone. These were…